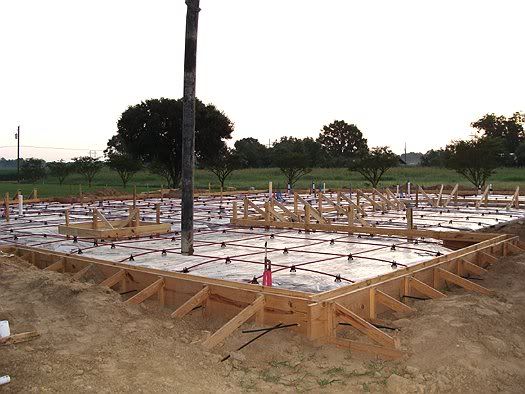 We had a lot of activity this week on the house construction. Early in the week the builder and his crew finished building the exterior foundation forms, then the plumber and electricians came and did their thing, after that the post tension guys came out and whipped up their part of the foundation in a little over half a day. On Thursday evening the construction crew made the forms for the showers in the master and office baths and finished with the elevator form, these all have to be recessed into the concrete so that the floors are flush with the natural floor of the house. Friday we were on schedule for pouring the concrete slab. Early on Friday morning I went out and blessed the foundation forms with Holy Water, put a little blessed Cross in the doorway entrance of the house and prayed for good weather.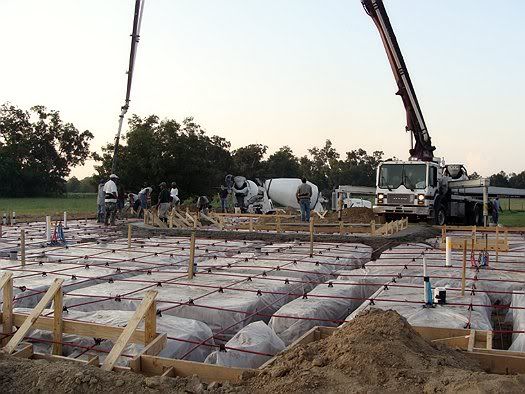 The pump truck showed up first, right around 4:45 with one of Baldwin Concrete company's reps, Ben arriving shortly after him. The finishers came rolling in by 5:45 and by 6 AM everyone was in place for the trucks to begin. There were about 20 trucks in all who rolled into the site to drop their concrete into the pump truck bin and by about 11 they had it pretty much wrapped up. The finishers remained on the job working the concrete for another few hours. By the time 2:15 Dave took his first careful steps across the slab. I arrived just a half hour after and we walked around for another hour, just amazed at how it all came together. I said a prayer of thanks for the great weather we had and how smoothly everything went the first few weeks. In another five days the post tension people will come back to do the last part of their job, and after another week or so, Shannon and his crew will come back to begin working on the framing of the house.
A note about our builder:
The concrete company rep came out on Thursday evening and commented on how nice the forms all looked, a very professional and neat job. We had no doubt that we chose the right carpenter and construction company to build our home. Shannon Hebert of Hebert Construction is top notch in every way. Very dedicated to building high quality homes and he's a perfectionist. Dave and I feel blessed to have this young man, who has great work ethic in charge of the whole project. He's trustworthy and honest and from the looks of things extremely reliable. We waited a good long time for him to finish up with his other projects before he was able to start on our home, he's worth it. He came highly recommended and we see why. And although its early in our progress, we're looking forward to the next phase of construction.