Tonight Krista and I went to a painting workshop with Ali, Kim, Lauren and Chandra! It was a hoot! Everyone had a great time and the paintings were super, very different and unique! Check it out here at

Painting With A Twist

online, its a super thing to do with a buncha girl friends.
Synopsis of the workshop:
Looking for a fun evening out with friends while creating your own masterpiece?

We have the answer! Bring your favorite bottle of wine or beverage, and paint a picture along with a local artist. She will show you step-by-step how to paint a beautiful work of art that you will take home at the end of the evening.

Join us for an evening of creativity and camaraderie. We'll provide your paint, canvas and brushes and you'll have a fun evening with friends. Plus, at the end of the evening, you' ll have a one-of-a-kind creation and, hopefully, a newfound talent you'll want to explore!
This is the teacher's original artwork: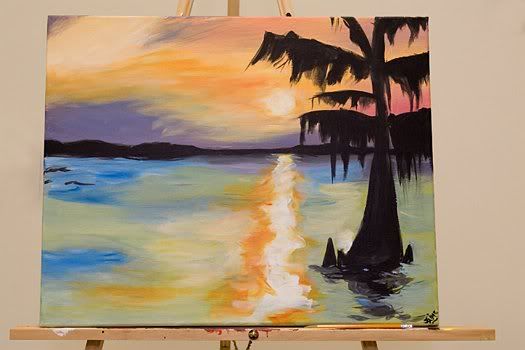 These are our pieces of artwork. Mine is in the middle at the bottom. Top row, Krista, Chandra, Kim, Lauren and Alicia.

Krista working on her painting.
Krista and I with our paintings.