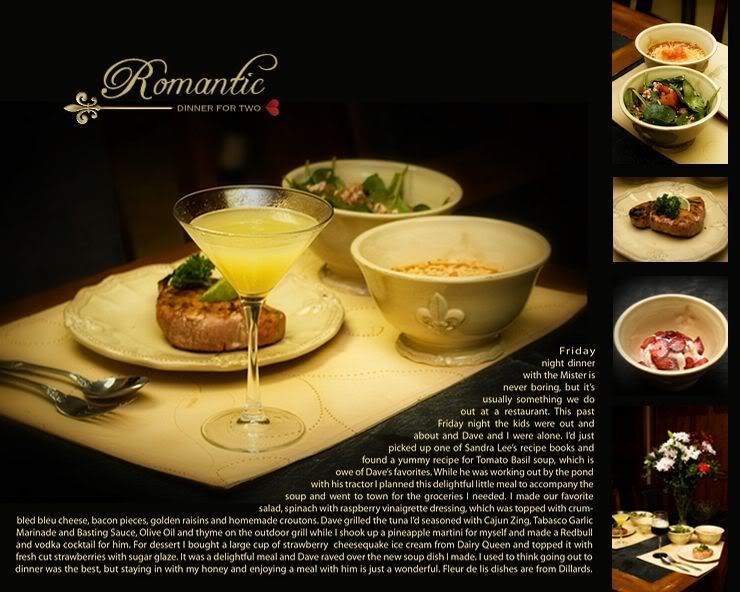 Don't ya just love it when the food you prepare is enjoyed by those you cook for. Well this was the case this past Friday night. Had I created this type of meal for the children who are still living at home, I don't think it would have been appreciated as much as the usual fare I prepare. Dave sucked it up and enjoyed every bite. Instead of dining out, I cooked in, while he did the grilling.
I have to tell everyone about the seasoning blend I'm nuts over, and have been since I found it at the Sugarena Hot Sauce Festival a few years go, is Cajun Zing. It is just the perfect blend of seasonings, spicy but not too hot and peppery and not too salty. It compliments my food without covering the delicious flavor. I love that their seasoning doesn't have MSG in it! Cajun Zing Homepage

HERE
I also adore Tabasco's Grilling/Marinade Sauce! I used it on the Tuna and it was fabulous! I love this stuff on almost anything! You can find it in the

Tabasco General Store online.
After our meal we went to the movies and saw Definitely, Maybe. It was a delightful and relaxing movie, the little actress in it is superb.
I've been asked many times so I'm including the dish info here. I bought the gold fleur de lis dishes at Dillards just after Christmas when I was returning other dishes I'd bought because I had too many sets. Go figure that one!
Click on the image to see a larger version. Fleur de lis pin and heart are from a sweet little kit by Zazou called "Avec Amour". How much more perfect could that name be!