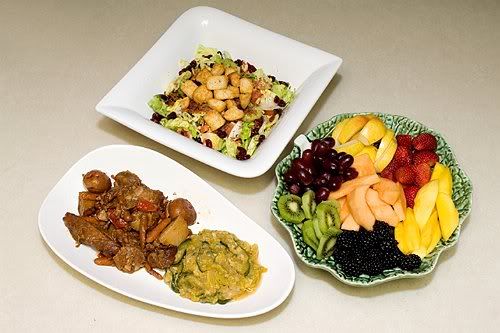 Last night's supper was so yummy, I just had to take a few pics! We celebrated Earth Day together with a delicious meal. I made a pretty platter of fruit to go with my salad and roasted veggies and boneless pork ribs. We finished off the evening with a yummy ice cream treat in new ice cream bowls I found at TJ Maxx earlier this week.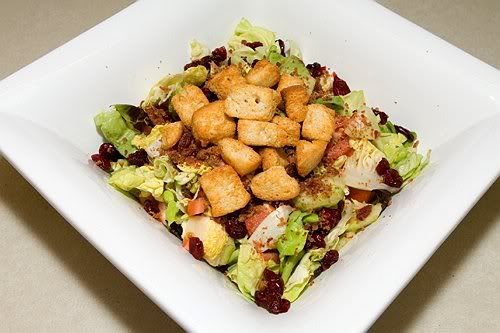 The salad is a simple mix of sweet butter lettuce, chopped roma tomatoes and cucumbers that I topped with crumbled bacon, craisins and a heap of Texas Toast croutons. Those are the best bagged croutons ever, crisp, fresh and seasoned perfectly!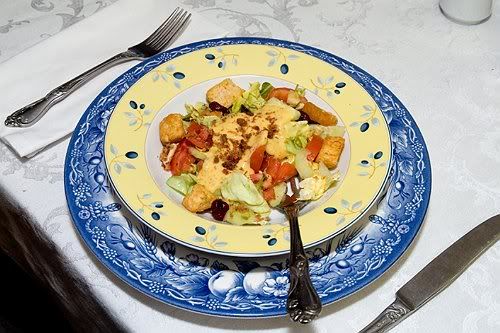 I oven roasted fresh baby potatoes and baby carrots with some boneless pork fingers. I made a marinade of Kraft Tuscan House Dressing, Worchesteshire sauce, Tabasco Garlic Basting and Marinade sauce, apricot preserves and a new seasoning mix called "Camp Dog". (I found the seasoning mix at the Old Antique Schoolhouse Mall in Washington, Louisiana when they were having a spring flea market fair on the lawn last weekend. Its simply delicous, you can find it online here:
Camp Dog Seasoning
. Its got NO MSG and less salt than other cajun seasoning blends and its packed with flavor!) I placed the potatoes, carrots and pork fingers in a baking dish, then I topped it with slices of onion rings, layered about eight slices of bacon on top of the meat and veggies (the pork fingers were very lean and the bacon was there to baste the fingers and roasting veggies), then I topped it all off with my marinade mixture and baked it for 1 hour and 45 minutes at 325, then I uncovered the dish and turned the oven down to 225 and baked it another hour. It came out scrumptious! Everyone loved the sweet and spicy taste of the pork and the potatoes and carrots were delicious after roasting in the marinade as well. I sauteed a little yellow squash and zucchini with onion for a side that Dave just adores.
Inspired by Ina Garten's show "Barefoot Contessa" I decided to make a yummy fruit plate. I simply chopped up cantaloupe, mango, strawberries, kiwi and fresh pear and added blackberries and grapes to balance out the colors of the fruit and placed it in a pretty platter! Alexa especially loves a pretty plate of fruit and after she got home from late classes at college, she really enjoyed it.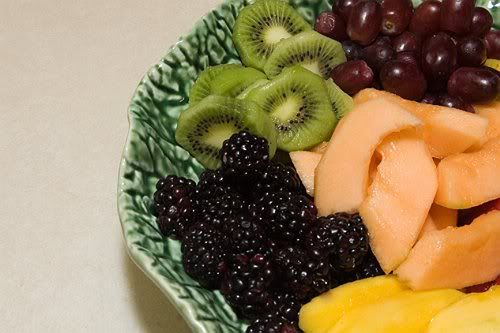 After a
walk to the pasture to feed our baby calf and to the barn to feed River and Cooper, our dogs and to watch them run for their daily exercise, we watched a little television and had a yummy ice cream dessert. The ice cream was all natural and half the fat of regular ice cream, the strawberry topping was sugar free and I only added a teaspoon each of caramel and fudge topping to the dish. I topped that off with a little fat free whipped cream and served up what the Mr. and the girls thought tasted totally full fat! What they don't know, surely won't hurt em!