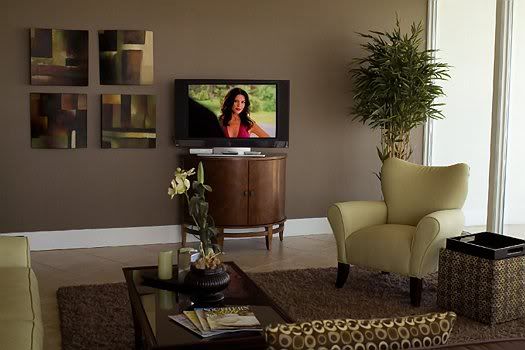 We've stayed at the Caribe for the past four years in one particular unit, which we loved, but this year because it wasn't available for the dates we needed, we booked a different unit. Its really lovely. Here are a few photos of the master bedroom, the den/dining/kitchen and bar area. I love the sleek modern lines of the furniture and the fresh green of the den.
This afternoon after we arrived Erica and her friend Tori took Kali for a swim while I settled into the condo. After their swim they came back to the room for an early supper of pizza from the Caribe Oasis deli. Then the three of them napped while I went to the grocery store. After I got back and put everything away I made some yummy chicken salad and tuna salad. I love having a few delicious things ready to eat when we take a break from the pool or beach. I also made spaghetti for the twins earlier this week, its one of their favorite things to eat, so that's ready and waiting for them as well.
Tonight around 9PM Davey, Claire and the twins, Alex and Eli, arrived. The boys had a burst of energy and ran around the condo for a good hour and a half before they were ready to go down to sleep. We set up a few pack and plays in the media room and they're snuggled in. I'll take pics of their room tomorrow. They're usually in bed for 7:30 every night, I think their parents are wishing for a little extra sleep in the morning by allowing them to stay up later tonight!
I can't wait for tomorrow morning, the boys and Kali will go down to the pool in the morning before its really hot to swim and play in the water. I'll be down their with my camera and have pics to post in the afternoon!
I hope everyone had a relaxing and peaceful Sunday!