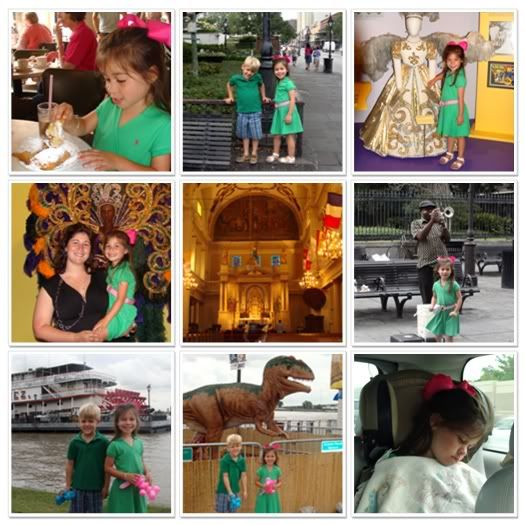 Here's a recap of the Dacation Kali took with Krista, Riley, Natalie, Anna Claire and Mimi on Wednesday.
Photo 1. Eating Beignet's at Cafe Dumond
Photo 2. New Orleans Street Scene
Photo 3. Mardi Gras Museum with child's costume
Photo 4. Kali and Mama with a Mardi Gras costume
Photo 5. New Orleans Cathedral
Photo 6. Street Performer played Sesame Street theme for Kali
Photo 7. Kali and Riley at the waterfront on the Mississippi River
Photo 8. Kali and Riley in front of a dinosaur statue
Photo 9. Kali napped all the way home!
Everyone had a wonderful day in New Orleans, Anna Claire was the best baby ever, she never cried! Click on the photo to see a larger version of the images!
I'm going to Youngsville to pick granite today and then to the lighting place to get a bid! Have a super day!!