As part of another little blog I participate with some girlfriends I posted this recipe for grilled bacon wrapped chicken stuffed with cheese and jalapenos with a pepper jelly barbecue sauce glaze on it. You can see it here:
Click on the recipe card to print it
or to view a larger version.
The barbecue sauce was made with Sweet Baby Ray's barbecuse sauce, a little red Tabasco Pepper Jelly, a splash of Louisiana Hot Sauce, a little italian salad dressing that I heat in a pan til well blended. After grilling outside I pop it into the oven for a bit to help the pepper jelly to stick. Its so yummy! To accompany the chicken I made mushroom, tomato and onion shishkabobs, a green salad and mixed fruit with a little whipped cream for dessert. Our appetizer was Ritz crackers with Tabasco Pepper Jelly and cream cheese.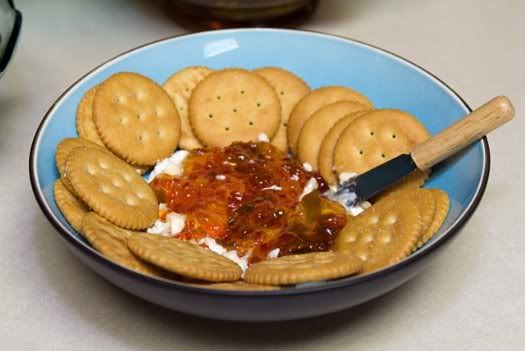 I love making these bacon wrapped cheese and jalapeno stuffed delights! Here's the recipe from a post last summer.