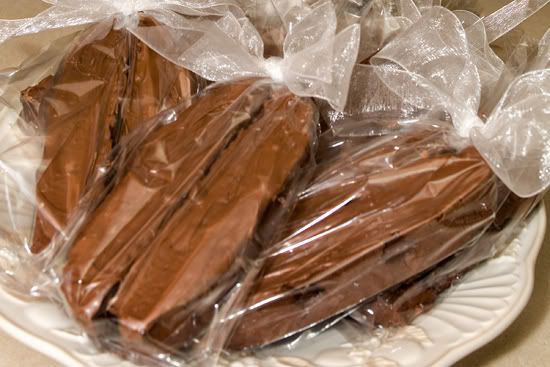 Here's a little recipe for Chocolate Almond Biscotti. I made some today and was very successful with it. It was simple and these are the ingredients you need. One Devil's Food Cake Mix, two eggs (not pictured), a few bags of whole almonds, chocolate syrup, all purpose flour, spray oil (I like organic olive oil spray) and semi sweet chocolate chips.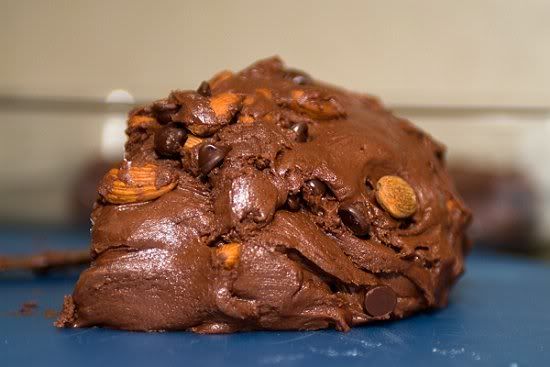 This is what the dough looks like after mixing, you can see the whole almonds and chocolate chips in the rich chocolate dough.
I created two logs about 10 inches long and an inch and a half thick using half of the dough for each.
After cooking at 350 degrees for 35 minutes I allowed the biscotti to cool then cut them into inch wide strips and placed it back in the pan to cook again for 12 more minutes.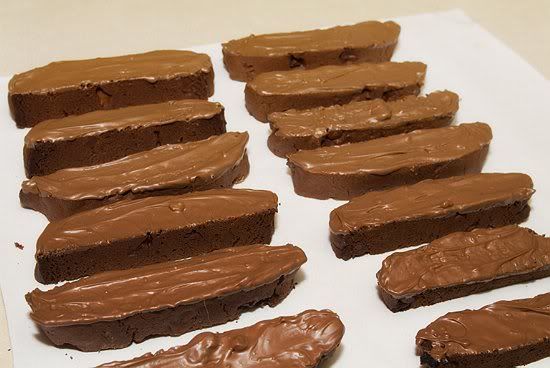 After cooking the biscotti for the second time, I allowed it to cool, then melted some chocolate and dipped one side of the cookies in it, I put it on a piece of wax paper to cool and harden up.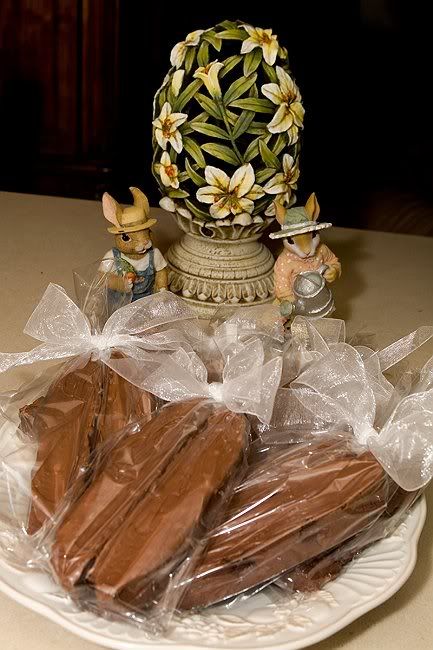 Here's the finished product, all wrapped up in clear bags and tied up with pretty sheer white ribbon.
1 package chocolate cake mix
1 teaspoon vanilla extract
1/2 teaspoon almond extract (I didn't have any so I omitted it.)
2 packages whole almonds (4.5 ounces total)
10 ounces of melting chocolate for dipping
In a large mixing bowl, (I used my kitchen aid mixer) combine the dry cake mix, flour, butter, chocolate syrup, eggs and extracts. Stir in the almonds and chocolate chips. Divide dough in half. On lightly greasted baking pan shape each portion into 10 x 2 inch log.
Bake at 350 degrees for 30 - 35 minutes or until firm to the touch. Cool for 15 minutes. Transfer to a cutting board; carefully cut diagonally with a serrated knife (I used an electric knife) into 1/2 slices. Place cut side down on greased baking sheets. Bake for 10 - 15 minutes or until firm. (Took mine about 12 minutes). Remove to wire rack to cool.
Melt chocolate for dipping in a plate or glass pan in the microwave, dip one side of biscotti in chocolate; place on waxed paper to cool and harden. Store in airtight container or wrap in plastic.
I'm participating in Foodie Friday with Gollum at Designs by Gollum. Click on the image above to go to the website. Links to all the Foodie participants are there for your enjoyment.