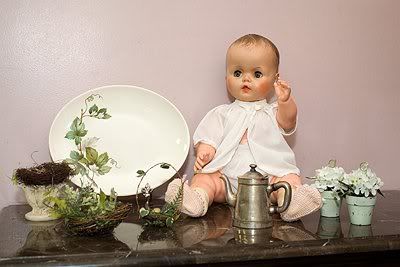 I went antiquing and hunting through flea markets in Breaux Bridge, Louisiana at several adorable shops and in Washington, Louisiana at the Antique Schoolhouse Mall with my sisters Robin and Deborah. We were out celebrating Robin's birthday which is tomorrow and enjoying time together just the three of us.
We each found some very special items today. I happened to be the luckiest of all because I just came across such sweet deals and found things that were right up my alley! Click on the photo above of some of my finds to see detailed photos.
Descriptions of some of my finds:
The doll is a 23 inch tall Drink and Wet Baby Doll that I thought was just so pretty. The green and white platter is 12" wide by 10" high and will make a pretty addition to my St. Patrick's Day decorations. The individual yellow casserole dishes are 7 inches wide and will be perfect for little crab au gratin that I'm planning this week and they go so nicely with my current green, white and bright golden yellow tablescape. The lil coffee pot is only 5" tall and is so adorable. It'll be a cute addition to any tablescape. I found three adorable little bird's nests that will be so cute on my Easter table, along with two little potted white flowers with placecard holder tucked in the flowers. I also found a few red and white pieces, a plate and bowl and red garland. I set it up with a red kitchen towel, tiny cloche and bright red apple to show it off. The dishes, though worn, are so gorgeous with beautiful red roses with pretty green leaves. The cook book "I Remember..." is Recipes and Memories collected by the Maine Alzheimers Association. I peeked inside and there are dozens of wonderful recipes that I'm sure to try over the years. There's a breakfast casserole that looks yummy and I'm going to make it for the family in the morning. The second to last photo in the album is of two lovely robin's egg blue dishes, one is a large round platter 14" round and the othe ris a beautiful cake stand 12" wide and 6" high. It was in a big box sitting on the middle of my kitchen bar when I returned from shopping tonight. It was sent to me by my sweet friend Janey, she found the pieces in Canton when shopping with girlfriends just a week or so ago. Thanks so very much for the adorable dishes, they'll go perfectly with my other pieces! Mwah!!
The white pie safe cabinet was the find of the day for me. Its old and the patina is lovely, I adore that its white and I will be able to use it to show off some sweet dishware sets, I can imagine dozens of ways it will be able to be used! Dave's grandmother had one in her kitchen and he often mentioned how much he loved eating the pies that were stored in it. We'll have to go back to the Antique Schoolhouse Mall soon to pick it up because today I was in the car and didn't even imagine I'd anything that would be too large to carry home in the car! Maybe tomorrow! :)